Upcoming Events
– January 25th: Bell Let's Talk Day
– January 27th: No School
– January 30th: New Semester Starts
– February 3rd: Report Cards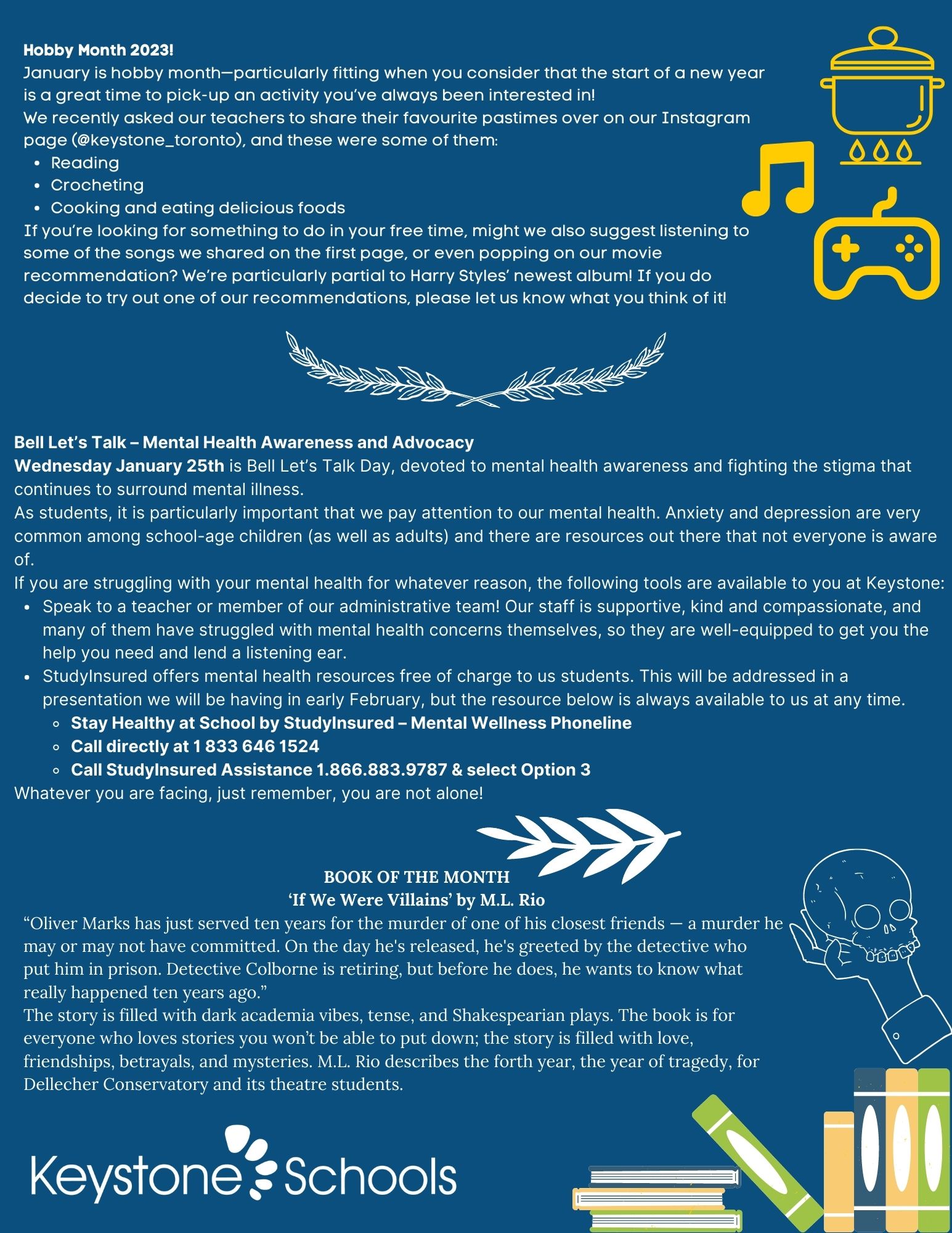 Movie of the Month
Beautiful Boy (TW: drugs, needles)
"It's a heartbreaking true story and one that surely will resonate with viewers who've experienced addiction themselves. But there's a gauzy detachment in Van Groeningen's approach that keeps it from achieving the kind emotional wallop it seemingly intended. It's almost too pretty in a self-consciously artful way, and that overriding aesthetic suffocates the underlying truth of the lead actors' performances."
Summary of Club Activities
Art Club: The art club participants create artistic pieces that can be used as decorations for school events. Such as creating decor for Halloween and Christmas.
Environmental Club: The environmental club participants discuss certain regulations that need to be followed in school in order to maintain environmental sustainability within the school's premises. The students created bins that can be used to recycle used paper and reuse them during class time.
Yearbook & Newsletter Club: Each member is assigned roles such as researcher, writer, and editor in order to finalize the assigned tasks.
Cultural Event Planning Club: The event planning club members are required to plan and execute cultural events such as Halloween, Christmas, Eid, Hanukkah, Dilwali.
Hobby Month 2023!
January is hobby month—particularly fitting when you consider that the start of a new year is a great time to pick-up an activity you've always been interested in!
We recently asked our teachers to share their favourite pastimes over on our Instagram page (@keystone_toronto), and these were some of them:
– Reading
– Crocheting
– Cooking and eating delicious foods
If you're looking for something to do in your free time, might we also suggest listening to some of the songs we shared on the first page, or even popping on our movie recommendation? We're particularly partial to Harry Styles' newest album! If you do decide to try out one of our recommendations, please let us know what you think of it!
BOOK OF THE MONTH
If We Were Villains by M.L. Rio
"Oliver Marks has just served ten years for the murder of one of his closest friends — a murder he may or may not have committed. On the day he's released, he's greeted by the detective who put him in prison. Detective Colborne is retiring, but before he does, he wants to know what really happened ten years ago."
The story is filled with dark academia vibes, tense, and Shakespearian plays. The book is for everyone who loves stories you won't be able to put down; the story is filled with love, friendships, betrayals, and mysteries. M.L. Rio describes the forth year, the year of tragedy, for Dellecher Conservatory and its theatre students.
Bell Let's Talk – Mental Health Awareness and Advocacy
Wednesday January 25th is Bell Let's Talk Day, devoted to mental health awareness and fighting the stigma that continues to surround mental illness.
As students, it is particularly important that we pay attention to our mental health. Anxiety and depression are very common among school-age children (as well as adults) and there are resources out there that not everyone is aware of.
If you are struggling with your mental health for whatever reason, the following tools are available to you at Keystone:
– Speak to a teacher or member of our administrative team! Our staff is supportive, kind and compassionate, and many of them have struggled with mental health concerns themselves, so they are well-equipped to get you the help you need and lend a listening ear.
– StudyInsured offers mental health resources free of charge to us students. This will be addressed in a presentation we will be having in early February, but the resource below is always available to us at any time.
Stay Healthy at School by StudyInsured – Mental Wellness Phoneline
Call directly at 1 833 646 1524
Call StudyInsured Assistance 1.866.883.9787
& select Option 3
Whatever you are facing, just remember, you are not alone!