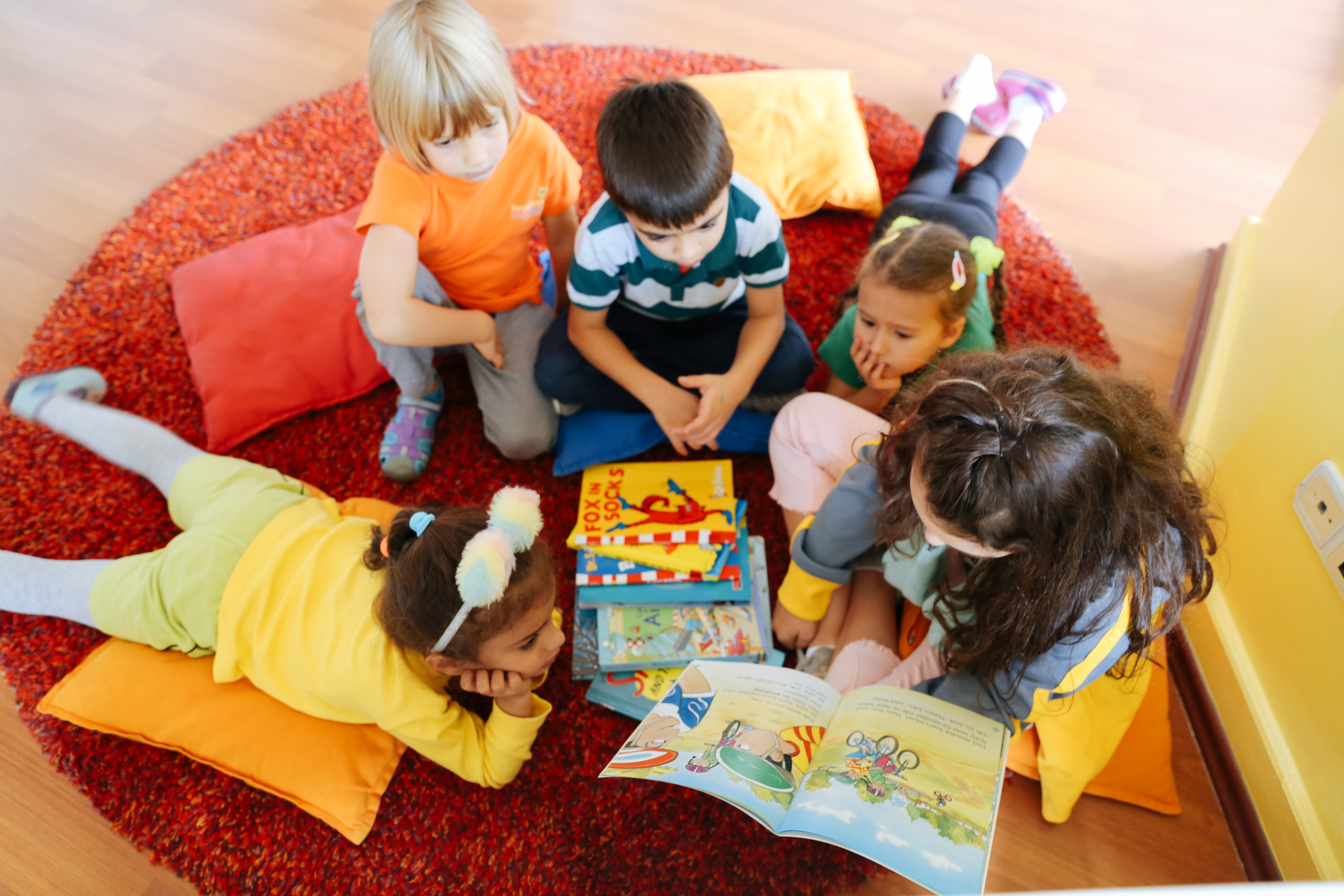 The earlier children are exposed to language and literacy through activities like reading and writing, the more likely they are to do well at school. Research has found that kids have an innate ability to acquire the rules of any language – an ability that disappears by adulthood. Once children learn a second language, it is easier for them to understand further language structures, which is why experts say that every new language learning is easier than the one before. Bilingual education in early years benefit kids and help them focus, plan, prioritize and make decisions.
In JK and SK, children spend half their days carrying out their regular activities in French, which creates a natural learning environment.
What will children learn?

See the example themes, books and learning objectives below. Please note that below table is not a complete list of learning materials & objectives. There are more than 30 themes & books and many more concepts covered within a year.
September – December
January – March
April – June
Themes

Back to school 

Fall/Winter(characteristics of the seasons)

Holidays (Thanksgiving, Christmas,

Hanukkah, Kwanzaa, etc.)

Important days (Indigenous Reconciliation, Remembrance Day, etc.)

Body parts and their functions

The 5 senses with  experiments

The universe (name of the planets)

Holidays
Important days (Black History Month, Family Day, etc.)
Wild animals

Earth Day (recycle, garbage, compost)

Plants (life of a plant with hands-on experiments)

Important days (Mother's Day,

Father's Day, etc)

Insects (names, life cycle) & Sea a

nimals

Mode of transportation 

Reading & Writing

Learn the letters of the alphabet (capital and small letters)

Associate an object with the same letter

Recognize their name in cursive 

Recognize their friend's name in cursive

Learn to divide words in syllabic

Learn to build words using syllabics

Mathematics

Count from 1 to 25

Recognize numbers 1-10

Sing French songs related to numbers from 1 to 12

Count from 1 to 50

Recognize numbers 11-19

Sing French songs with the ordinal numbers (premier, deuxième)

Count from 1 to 70

Recognize numbers 20-70

Compare quantities: Plus que/ moins que/ autant que

Shapes & Colors

Learn the basics in graphism: dot, line, etc.

Recognize shapes: circle, square, star, etc.

Learn colours in French: red, yellow, blue, orange, purple, brown, etc.

Graphism: bridge, spiral, loops, etc.

Shapes: triangle, rectangle, oval, crescent, heart etc.

Learn how to write letters in cursive

Trace, copy words and sentences in French

Draw shapes without tracing

Write cursive letters and capital letters without tracing